If you are already reading the 2020-2021 Sunshine State books, you can start taking the Canvas quizzes!
Just  e-mail Mrs. Forgas and tell her which books you are reading so she can send you an invitation to the course.
Click each image below for closeup:
SSYRA 3rd-5th Grade 2020-2021 Poster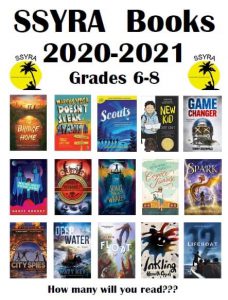 SSYRA 6th-8th Grade 2020-2021 Annotated List
SSYRA 6th-8th Grade 2020-2021 Simple List
Learn more about the Sunshine State Young Readers Award (SSYRA) program

at the Florida Association for Media in Education (FAME) website.